The champion League quarter Finals draw is finally out, with mouth-watering fixtures. The most catching fixture will be between Chelsea vs Real Madrid. This will be the repeat of last year's edition of Semifinals where Madrid was knocked out by the Blues who went ahead to be crowned as the Champions. Here are the fixtures.
Tuchel reaction on his side drawing with Real Madrid. "It's a tough one. A challenge cannot be much higher than playing in the Bernabeu with spectators. There is also big excitement around this fixture."
Chelsea vs Real Madrid  
Manchester City vs Atletico Madrid
 Villarreal vs Bayern Munich
 Benfica vs Liverpool  
Semi-Final: 1. – Manchester City/Atletico Madrid vs Chelsea/Real Madrid
Semi Final:2. – Benfica/Liverpool vs Villarreal/Bayern Munich.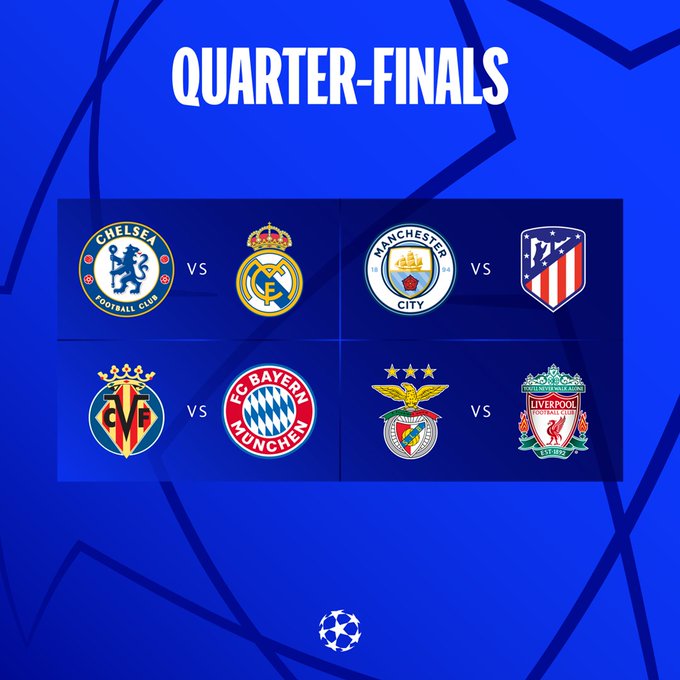 Liverpool and Bayern Munich who are dubbed as the tournament favourites seem to have a smooth ride to the semi-finals, however, in the game of football, you can not underrate an opponent. Villarreal shocked many as they eliminated Italian giants Juventus while  Benfica fought well and knocked out a well organized Ajax side.
Pep Guardiola's men will be aiming to win their first Champion League Silverware after losing painfully in the final 1-0 to Chelsea. The match against Atletico Madrid is expected to be tough with the Spanish side playing a well defensively organized block. Atletico Madrid sailed through after eliminating Manchester United.
The 2022 Final edition will be held at Stade de France, Saint-Denis on May 28, 2022.