Legendary strike Cristian Ronaldo was again in the spotlight yesterday night's match against Tottenham after he exited the pitch through the tunnel in the 89th minute after receiving a cold treatment from Erick ten Hag. Ronaldo was an unused sub and openly expressed his fury over limited gameplay in the recent past.
Ronaldo started on the bench in the named squad, which faced the Spurs; in the match, The Red Devils dominated and won comfortable 2-0. Ronaldo fans, in many instances, have questioned Erick ten Hag's decision not to use the striker in some of the key matches this season; there was disquiet at Old Trafford after the Portuguese international registered interest in leaving the club in the summer.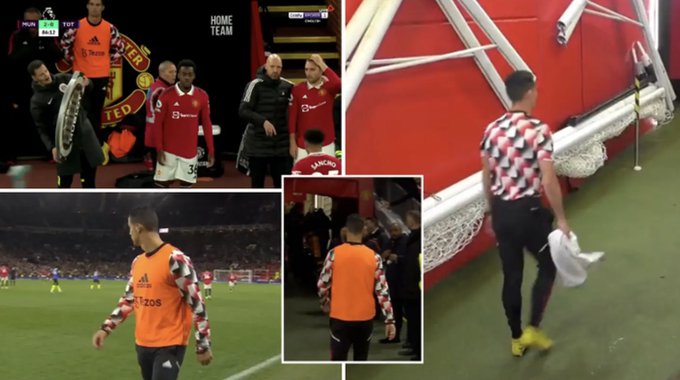 In the post-match interview, Ten Hag posed a question on Ronaldo's saga and responded.
"I will deal with that tomorrow, not today. We are now celebrating this victory".
Here are some of the reactions to Ronaldo's situation.
@piersmorgan:
The way Ten Hag seems to delight in humiliating
@Cristiano
is pathetic. Sticking the world's greatest ever footballer on the bench, making him repeatedly warm up, then not even use him as a sub, is just staggeringly disrespectful to United's top scorer last season.
@markgoldbridge:
Ronaldo
wants to leave, Ten Hag wants to move on. It amazes me people are shocked we've ended up here. Totally preventable if we had football people running the club instead of bankers.
@Peter Schmeichel
: It's the first time I can say that I am disappointed with him. Normally I back him, I understand his situation — we don't need distractions like that, and that's a disappointment, I would say.
@Dani77k:
It is HYPOCRISY if you act as if you won't feel the same way he does, when you've achieved his level of greatness in your craft, but are treated like the average person. Don't act self-righteous, he may be wrong, but Ronaldo has every right to be hurt by this treatment.