The Bundesliga's last league match day was full of drama as hopefully Borrusia Dortumund's dreams were shattered entirely after bottling the League after drawing home 2-2 against Mainz.
Dortumund two goals from Sule and Guerreiro were nor enough to finish the business of the day as Bayern was slipping away at Koln Jamal Musiala broke the dreadrock on the 89th minute earning the Germany champion the 11th title in a row, the game ended 2-1.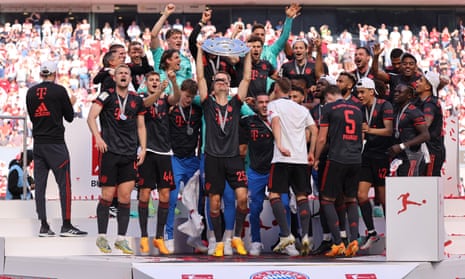 Following Bayern  victory, Dortmund and Bayern both finished the season with 71 points, but Dortmund had a goal differential of 15 less, making it one of the most dramatic finishes to a Bundesliga season ever.
Dortmand fans were letf hopelss and hertbroken after the final whistle but thanks for their fans who cheered them despite the loss and the atmosphere in the stadium was Epic.
"And we will always be Borussia, there is never, never, another club…"pic.twitter.com/BqVju6QiG3

— Borussia Dortmund (@BlackYellow) May 27, 2023