Thousands of people who had headed to the worldcoin calls back in April and signed up and verified on the platform are now smiling all the way to the bank as they withdraw the first batch of disbursement by the word coins.
Despite the strict pushback by the US government on OpenAl, its boss Sam Altman had gone ahead and launched the cryptocurrency project titled the worldcoin foundation. Worldcoin is a cryptocurrency blockchain that allows its users to first prove their identity to curb the use of bots.
What is Worldcoin?
Worldcoin is a new cryptocurrency and digital identity system that is being developed by a team of engineers and researchers. The goal of Worldcoin is to create a global financial system that is more inclusive and accessible to everyone.
Worldcoin consists of a privacy-preserving digital identity (World ID) and a digital currency (WLD). World ID is a unique identifier that is assigned to each individual when they scan their eyes with a Worldcoin Orb. The Orb is a handheld device that uses iris-scanning technology to verify that the person is human.
WLD is a digital currency that is distributed to individuals who scan their eyes with a Worldcoin Orb. The amount of WLD that each person receives is based on a number of factors, including age, location, and economic status
On Monday, the foundation announced that its operations had commenced and they had been wired with Worldcoin tokens.  This operation will be rolled across 20 nations. Sam Altam announced that the worldcoins will not be available in the united states of America due to its strict regulations.
Worldcoin has taken the Kenyan space by storming and a number of youths are queuing to register however the Kenyan government has already put a disclaimer and urged Kenyans to exercise caution. The said Kenyans are said to have scanned their eyeball for a Ksh 7,000.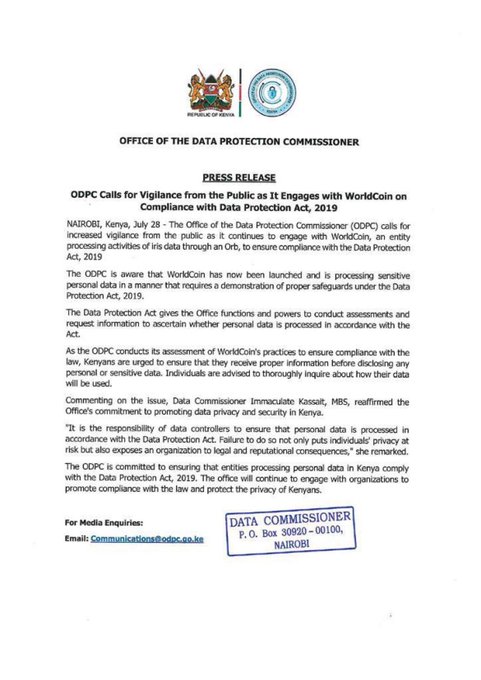 In Kenya, some beneficiaries of the first disbursement could not hide their joy as they converted the world coins to dollars and enjoyed their ultimate harvest.
''Worldcoin is like a super cool digital currency It's trying to make money work better for everyone! Imagine a future where people around the world can easily exchange money without any hassle. That's Worldcoin!"
"Worldcoin, the ambitious cryptocurrency and digital ID project spearheaded by OpenAI chief Sam Altman, launched on Monday after years in development, promising to verify identity by scanning their eyes and potentially solving one of the more pressing problems posed by AI."